Distinguish yourself further from your competitors with a tea program of ongoing innovations that makes you a destination point with your customers. Mighty Leaf's creative and proprietary TeaTop™ lid converts your paper cup to a "traveling teapot," combining convenience with portable luxury. The TeaTop™ offers an unparalleled experience that creates loyal customers, current and new. Our point of sale pieces educate your customers on the value-added Mighty Leaf whole leaf difference. Sales tools include stylishly designed racks and tins, menus and signage, table tents and impulse purchases.
Point of Sale Rack and Tins
Our tins are made of quality aluminum, giving a classic, but modern look to your countertop. Tight-seal tops make them simple to open and easy for customers and staff to handle. And our two-tier display rack reiterates a product of premium quality.
Artisan's Choice
Inside our colorful pillow pack are three individually packaged, silken Tea Pouches™. Sample some of our signature blends: Orange Dulce, Green Tea Tropical, and Chamomile Citrus. These packs are easy to handle, simple to store and make a great amenity gift or impulse purchase.
Point of Sale Signs
We understand the value and strength of a simple, yet powerful point of sale sign. Our point of sale sign comes with a photo of our specially created Tea Pouches,™ encouraging your guests to give a new tea experience a try. Our point of sale menu accompanies our Coffee Bar Starter Kit, listing the teas that come in the kit.
Table Tents
Our table tents artistically and simply communicate the Mighty Leaf story to build sales and customer loyalty. We have three to choose from: black tea, green tea, and herbal infusion.
Traveling Teapot
Innovative and versatile, our take-away TeaTop™ lid is designed specifically for tea. The Tea Pouch™ tag and string are easily threaded through a special hole in the raised portion of the lid, capturing rich flavors
and oils that are squeezed back into their beverage. And our TeaTop™ lids have been designed to fit both the Mighty Leaf take-away cups as well as most U.S. manufactured cups.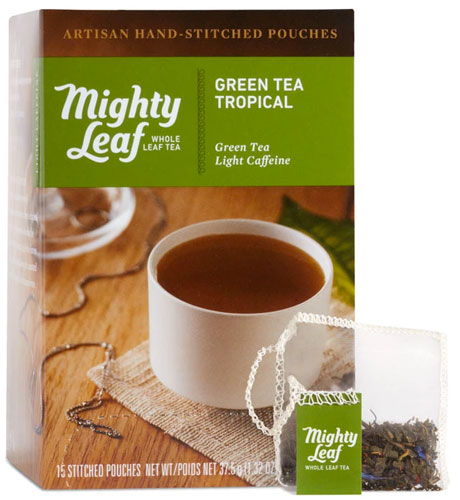 Retail Boxes of Tea Pouches
Encourage customers to take a box of Mighty Leaf tea home with them by displaying these artisan boxes filled with 15 individually-wrapped Tea Pouches™. Each box clearly states the type of tea enclosed and is appealing to display in any store. Each pouch is wrapped in cellophane, keeping them fresh until the moment the fragrant aromas are released. The boxes are easy to stack on a shelf or on a countertop near the register.