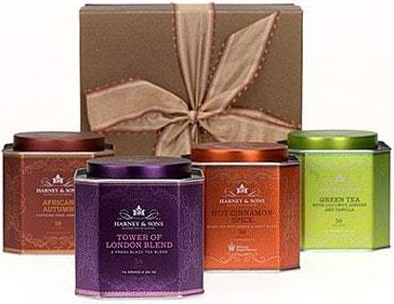 Harney and Sons Premium Tea
Ammirati proudly carries the finest line of premium imported teas from Harney and Sons. Since 1983 the Harney family has been traveling the world to select the finest whole leaf teas. Today, they have assembled the world's finest array of teas for your enjoyment.
Mighty Leaf Tea
Enjoy the whole leaf difference—Our Artisan-Crafted Whole Leaf Tea Pouches
We invite you to explore the world of Mighty Leaf Tea and our specially created artisan-crafted whole leaf tea pouches. In ancient traditions across the world a freshly brewed pot filled with whole tea leaves is revered as the richest in character. Embodying that ideal, we created the silken Tea Pouch™ with the world's finest whole tea leaves, herbs, fruits and spices too big for ordinary tea bags.
The Mighty Leaf Tea Pouch™ was invented, created and pioneered in 1996. We created a proprietary process offering the convenience of precision, pre-portioned whole leaf servings as an alternative to the more labor intensive traditional loose tea preparation method. Without glue or staples, our unmatched process allows for larger whole leaves, without limitation to size, translating to an unsurpassed tea experience. We made tea drinking simple and pure, so that you can enjoy the whole leaf difference in our convenient, easy-to-use Tea Pouches™ without a mess or hassle.